Company
"From the founding of Landmark Builders in 1997, our guiding principle has been to create the perfect client journey…through a positive life experience, when building a home. This mission drives us to tackle the most creative and/or challenging architectural and structural projects through a professional, client driven, and detailed business approach. Our extensive experience and systematic pricing method helps clients turn complex design, selection and budget decisions into clear, realistic and attainable showcase homes and renovations." – John P. Caulfield, Jr., Owner, Landmark Builders  
We Build Landmarks
Definition : an object or structure on land that is easy to recognize, a building or place that is historical, an important event or achievement.
Approach
We navigate a path of construction that is approachable, educational and satisfying.
Enjoy The Journey
Streamlined workflow, sophisticated process and deep building expertise promises you an experience that is fun, educational and seamless.
Meet the Landmark Team
"We Build Landmarks."  Not a slogan, but a way of life for the passionate members of the Landmark Builders team.  Led by owner John P. Caulfield, Jr., the Landmark Builders crew takes pride in their ability to listen, understand and create unique spaces for their clients to enjoy.  
Awards and Recognition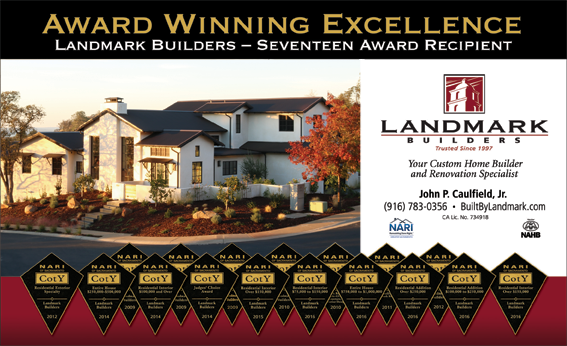 As builders, we are extremely proud to have been recognized for excellence by the Building Industry Association (BIA) and the National Association of the Remodeling Industry (NARI) – recognition that supports our desire to be "Your Trusted Adviser for custom home builds and renovations" – NARI. Below are a list of some of our awards and achievements.
In the last 8 years, Landmark Builders has acquired 21 COTy Awards from NARI.
BIA has presented Landmark Builders with 9 MAME Awards in the last 5 years.
Community Involvement
John P. Caulfield, Jr., is involved in various associations, charities and organizations. Each one has something unique that meets his professional and personal expectations. John is proud to be involved with the following associations and organizations: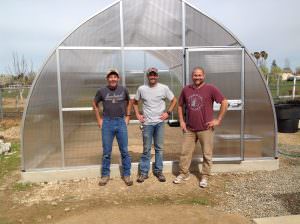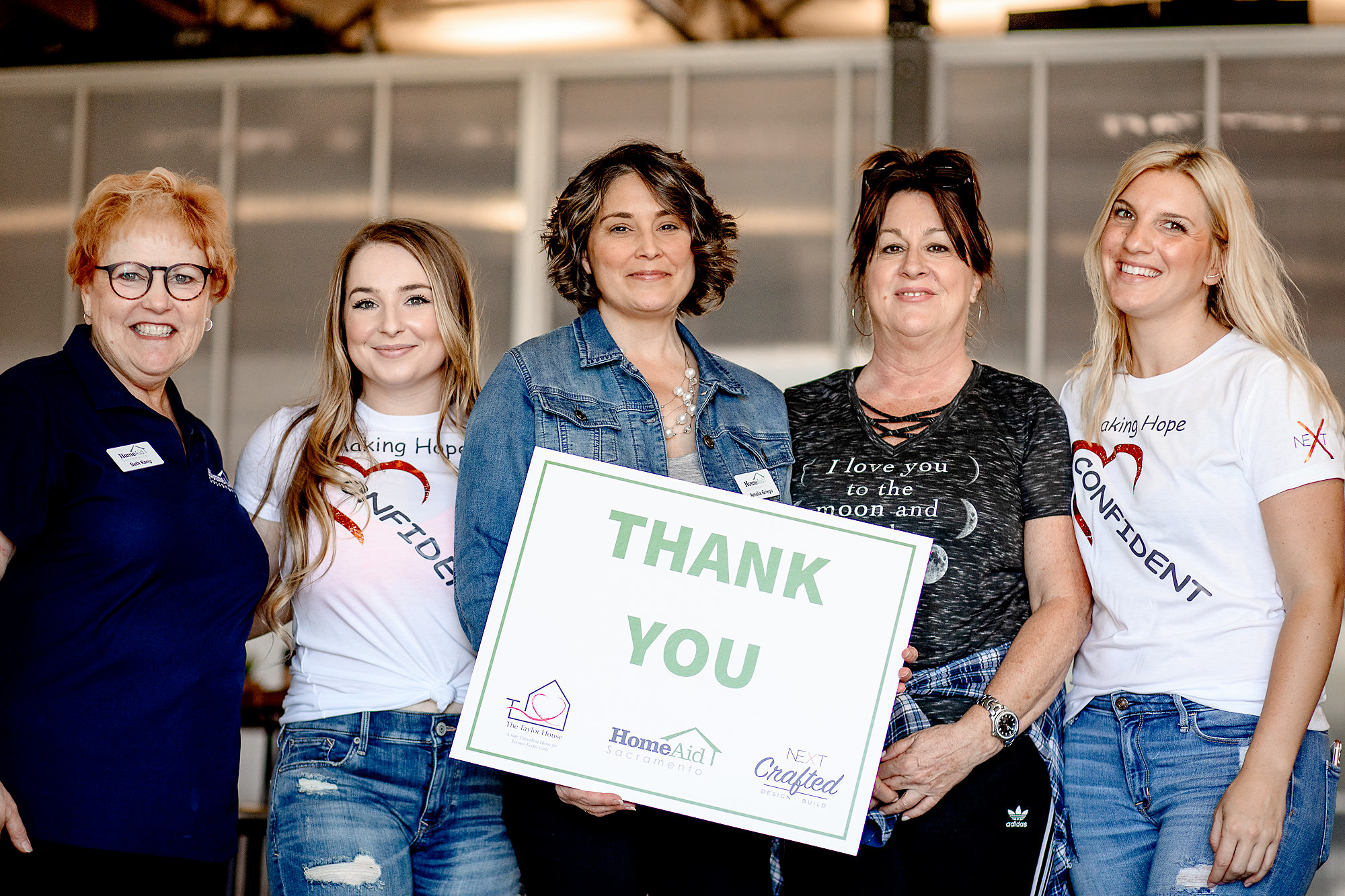 The Taylor House
HomeAid Sacramento and Builder Captain, Landmark Builders are excited to partner with the Taylor House to expand its facilities with the addition of living quarters for two additional residents. This life-changing project is HomeAid Sacramento's 100th project since 1996! You can see more on this project by clicking here.
Landmark Builders is an amazing group of people! John Caulfield and his team are incredibly professional and knowledgeable.

~ Rei ~

Five stars-on budget and finished early! It would be hard for us to find a complaint about our whole house remodel with Landmark Builders.

~ Jenny ~

If you are looking for a professional approach to building or renovating your home then do consider John Caulfield and the team at Landmark Builders.

~ Laura ~

I am extremely satisfied with my home and would definitely hire Landmark again if the opportunity arose.

~ Eric ~

"WELL DONE !!! and thank you."

~ The Zimmermans ~

"They made very good recommendations to things we didn't even think about."

~ Brian & Deborah ~

"We felt a sense of Trust from our first meeting onward. We had a great time and are delighted with the results."

~ David & Robin ~

"Really pleasant and professional people to deal with. Hire Landmark! This was a new experience for us as we had never built a home. In the entire process we never had a problem… it went smoothly. The next home we build will definitely be with Landmark."

~ Bob and Sandi ~

"Once we met John, we knew he was the guy…with his confidence and enthusiasm. Your teams enthusiasm and pride in creating a wonderful home was right for our dreams and family."

~ Tom & Nadine ~

"John and his team exceeded our expectations in terms of flexibility, responsiveness, creativity, and quality of work. We would highly recommend Landmark. Also, John is well respected by the industry."

~ The Hartmeiers ~

"My family and I are in our new home and we couldn't be happier. Thank you so much for making the construction process so enjoyable."

~ Scott & Valerie ~

"Landmark exceeded all of our expectations! The process Landmark used clearly separated them from other contractors and gave us confidence they could deliver without major surprises or cost overruns."

~ Tom & Patty ~